About A Revolution (2018)
"A change is coming, I can feel it."
In the wake of the dramatic success of Agamemnon, and political turmoil forming the backdrop of Britain at the time, the Wednesday 16+ ensemble tackled the subject of revolution in our most experimental production yet.
Performed in Brighton Fringe in 2018, About a Revolution was first and foremost a response – to Brexit, to Grenfell, to the general state of Britain and the world. Our first show to put verbatim at the heart of the piece, About a Revolution used a plot-light approach to explore the revolutions of the past century, from Lenin in 1917 to the changes the performer's wanted to see in the present. The actor's thoughts and feelings were the foundations of the piece – and during performance, we even used audience participation to continue creating a three-dimensional picture of what the public craved from present society.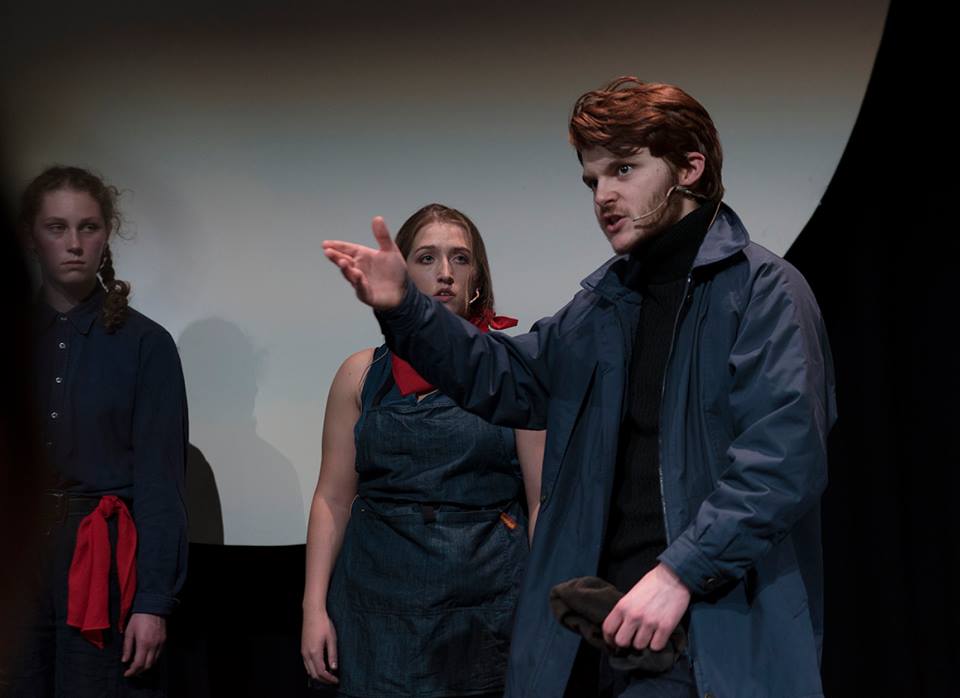 Jamie Johnson portraying Lenin, who introduced the performance
About a Revolution was a play fully devised and written by the company, our first public performance to be able to do so. As such, it has been critical to our development as creatives – the ripples of the AaR process are felt in the company today. Verbatim monologues and the performers' own words on the themes of the play were central to Romeo & Juliet and were the building blocks of BAKKHAI. The original inspiration of the latter was, in fact, a development and refining of About a Revolution! The abstract nature of the plot has also influenced us – the narrative primarily being a tool for emotion, intensity, and real thought was again foundational to BAKKHAI.
The About a Revolution chorus, in front of a backdrop designed by John Everett based on a Bolshevik propaganda poster