Everywhere (2018)
"I'm gonna fly away, / I'll be in the sky someday. / I'll feel the summer breeze, / Oh, I'm going to fly away."
In December 2018, and brought back for Brighton Fringe 2019, Everywhere was a family Christmas show telling the story of a young girl escaping her life through the fairytales her grandmother told her. Nominated for Best Family Show in the Fringe, the show was a beautifully whimsical anthology of these stories!
After our production in summer 2017, Thirteen, our Thursday 12-16 group decided with director Tanushka Marah to break the company's usual formula of a showcase show in winter and a larger summer show – this group wanted to instead work for a full year to fully refine a production for the following Christmas. So, from September 2017, we were able to slowly develop, research, and devise the show. This slower approach allowed for more exploration of dramatic technique, such as singing work and Butoh physical theatre. This production was, if nothing else, a fantastic chance for our young actors to develop their technique with strategies from around the globe.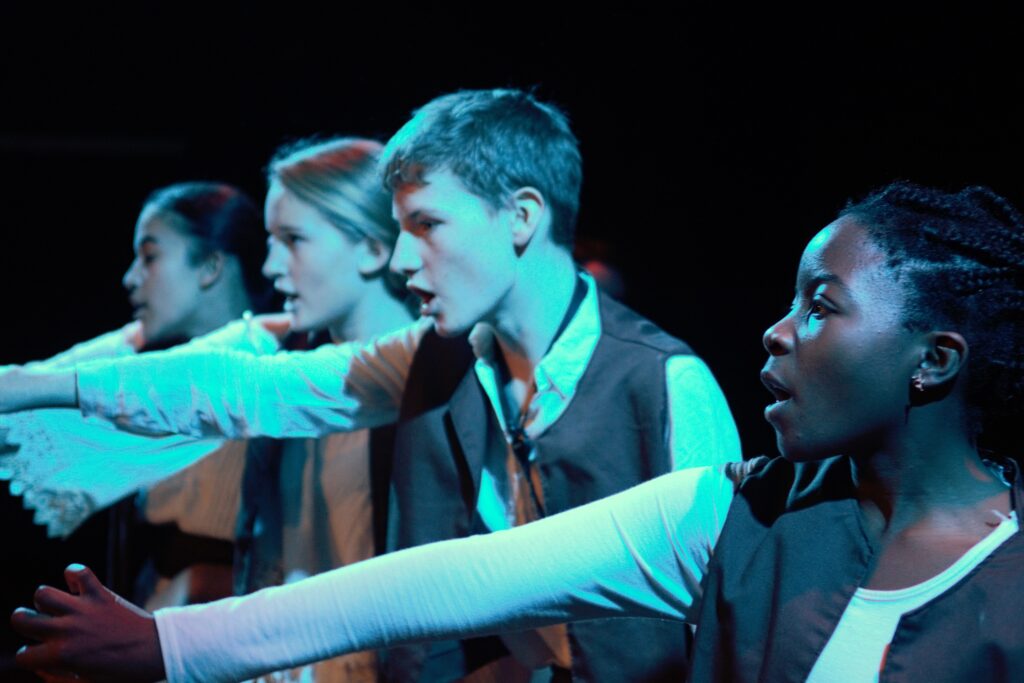 Chorus members performing a song written by one of the ensemble to introduce the Russian folktale, Baba Yaga.
The crux of Everywhere followed a young girl travelling in her fantasies around the world to experience fairytales from all corners of the world. The young actors themselves spent countless hours researching such stories and adapting them into theatrical scripts – the writers of this piece are undoubtedly the actors themselves. It was heavily devised from within the room, with the larger group breaking into smaller ones who each worked on individual fairytales. Then, every actor was worked into the stories as chorus members to bring them to life and enlighten the sense of whimsy within.
Jack Marley portraying a tree in the story of Ashpuettel, the original tale which Cinderella was based on.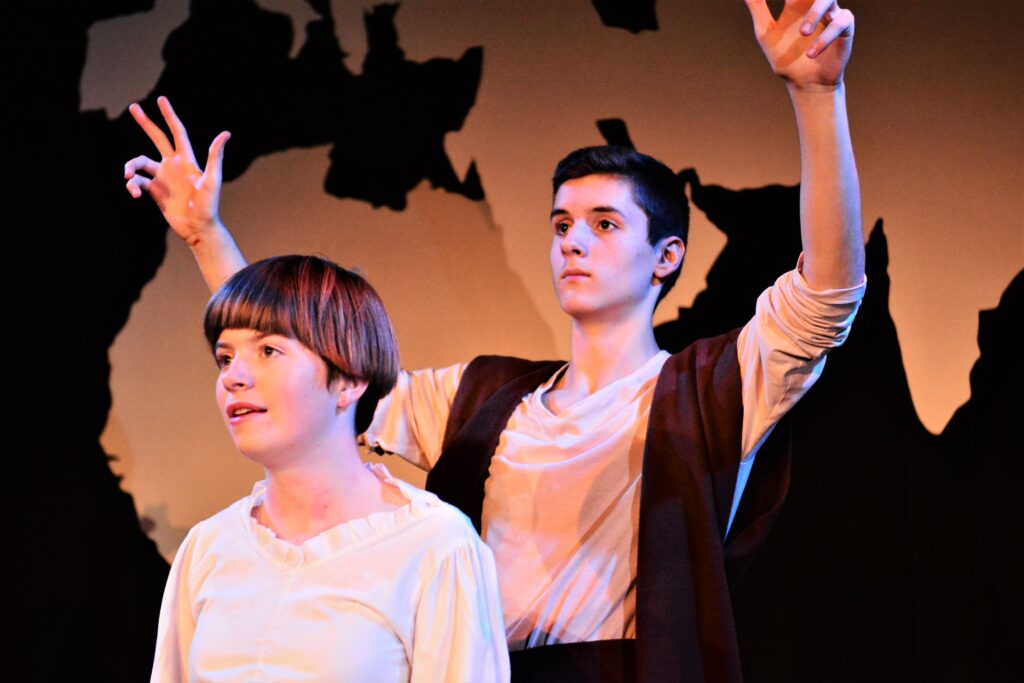 After the hit of the December performance, we brought the show back the following May, taking the chance to refine some elements for the Fringe festival. Playing in the Warren, the young actors battled with rain and a backstage that nearly flooded, but they soldiered through and performed spectacularly! This second showing ran extremely successfully and bagged ThirdSpace a nomination for Best Family show in that year's Fringe.
Everywhere forged a powerful ensemble out of it's cast members, who's next mission was 2019's Romeo and Juliet. Some of our finest actors were found during the production of Everywhere, and its slower production schedule allowed more time for the actors to show their strengths and develop as a team. It was hugely important for much of their development, and for the company's, as the rehearsal atmosphere created during production paved the way for our iconic productions of Shakespeare's love story.
Everywhere is available to be watched on our YouTube channel!